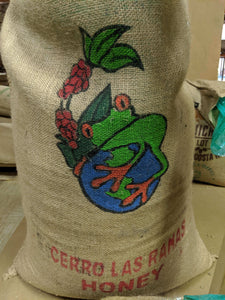 This one sold out fast last year, and the long awaited 2021 crop is finally here. This El Salvador is a honey processed (pulped natural) microlot on the Cerro Las Ranas estate which was planted on fresh volcanic lava in 2005. The estate name means "Hill of Frogs" because there is a lagoon with thousands of frogs that live in the middle of the coffee plantation. There is even a frog on the burlap bag. They have Rainforest Alliance Certification and are committed to being a good steward of the land and animals around them. It is also packed in Grain-Pro bags to preserve its freshness.
It has more body than an African coffee, but otherwise, a lot of similarities exist. It is creamy with fruity and sweet qualities to it, namely strawberry and cherry. The fruit is much less prominent than in a natural-processed coffee, but just adds a sweetness in the background. A coffee like this appeals to pretty much everyone in the world, because if they want "normal coffee" it's not so weird that they find it unusual. However, if you like interesting coffees, there is enough here, that you can sip at it with great satisfaction and keep going back for a refill. It's been six years since we stocked it, but it used to be one of our most requested and popular coffees. El Salvador was hit very hard by the coffee rust fungus, and the quality of all of the coffee, including this one, has been below average; but they are finally making a comeback and we are seeing some nice El Salvador high quality beans again.
Honey coffees beans are delicate and susceptible to scorching. Home roasting units won't have a problem, but if you have a large drum roaster, don't preheat it above 350 degrees. Then nudge the heat up gently, evenly, get it through the 1st cracks, maybe wait 30 seconds, let it out. If in doubt, err on the side of being too light. As you get darker, its still nice, but it loses its undertones. As you get into the 2nd cracks the sugars burn and it loses its appeal altogether. Try to keep the roast at 15 minutes or less.
US Arrival June 2023