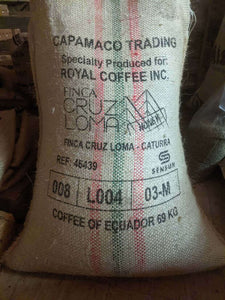 Ecuador coffee is a rarity.  They ship out 400,000 pounds a year which sounds like a lot, but when you think about 50 million pounds a year out of Brazil and 15 million pounds a year out of Colombia, you understand Ecuador is just a speck.
Pinchincha is both a region in the South-Central part of the country, and also the name of the mill that processes the coffee there.  The coffee is fair trade and organic certified and grown by a small co-op in the region.
This is a tiny microlot of beans that they experimented with a Honey Process instead of the normal washed process. Basically they let them dry under the sun with the mucilage part of the fruit still on them so that the beans would absorb some of the sugars and fruity tastes without being overwhelmingly fruity.
This is best as a light roast coffee. It's not all that finicky to roast, but you do have to keep it light or else it will scorch the sugars.  The lighter you take it the more acidity and tartness you get with milkiness and caramel and a few degrees darker is more like banana and chocolate.  Just out of first cracks we are tasting elderflower, orange, rose, plum. 

Really nice single origin espresso if you go about 5 degrees darker with it.
I don't get super excited about honey coffees, but this one is above average, and it's extremely unusual to find one out of Ecuador. I would particularly recommend it to customers who enjoy Costa Rica honey coffees.
US Arrival May 2022

choosing a selection results in a full page refresh