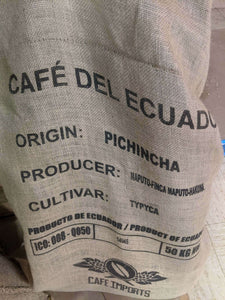 Ecuador coffee is a rarity. They ship out 400,000 pounds a year which sounds like a lot, but when you think about 50 million pounds a year out of Brazil and 15 million pounds a year out of Colombia, you understand Ecuador's industry is just a speck on the graph. So finding a lot of Ecuador that actually shines is rare, although when you DO find one, they are magically good and reminiscent of a fine Panama bean. Incredibly floral and aromatic with creamy mouthfeel and sweet mildly fruity taste.
What I can say about this one, is it is one of the rare and magically good ones. It is grown on one of the few farms in the country, and the farm takes meticulous care of their growing, sorting, and processing. The farmer is a retired surgeon and has the same attention to detail in his coffee as he did in his career. He and his wife met while working for Doctors Without Borders and named their farm Finca Maputo after a shared interest in Burundi. The first trees they planted being the "Hakuna Matata" microlot. The beans are all the Typica varietal, grown at 4,000-4500 feet above sea level, and the perfect coffee climate right on the equator.
A City roast offers tremendous flavor. Far nicer than the other South American coffees we are used to. Here, you note intense floral aroma. Low acidity. The floral beginning is followed with white grape, and a raspberry tang at the finish.

As you go darker, you lose the sweetness and floral notes of the coffee. It's still good coffee, all the way up to the 2nd cracks, but with a coffee this special, you would be well advised to keep it at a light roast.
However, this makes awesome espresso if you roast it to the 2nd cracks.
It is crazy expensive, but literally one of the best coffees that Ecuador grew this year. We went there in the fall and tried several hundred coffees and picked our three favorites.

US Arrival January 2020
choosing a selection results in a full page refresh