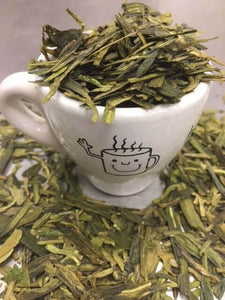 Dragonwell is THE most common tea drank in China, and this Dragonwell is above average quality grade. It is higher grade than the Dragonwell typically found in the West, but it is not so rare as to have an unapproachable price point. Any Chinese resident would approve of this tea.
Dragonwell is mellow and floral, sweet, with an aroma of freshly mowed grass, and a taste that hints of the ocean. It is a refined tea, featuring a lighter body and more subtle taste than what Westerners are accustomed to. This is a great introductory tea for the tea drinker who wants to be able to appreciate gourmet green tea. Once you have drank several mugs of this one, you will be able to appreciate the aroma, mouth feel, and taste in this tea, and you will begin to notice the disappointing lack of these traits in cheaper green teas.
Using water over 175 degrees will cause the bitter tannins to be released, and essentially ruin this tea. To appreciate this tea, do not oversteep, and do not use too hot of water.
Tasting Notes: Smooth, Sweet Aftertaste, Thin Body, Mellow, Slightly Vegetative

Steep: 1.5 tsp of tea for 8oz water. Water temperature: 175. Steep time 3 minutes. Sweetener: Traditionally in China none is added, but Westerners typically add honey.

Approximately 28 tsp in a 1 ounce package.