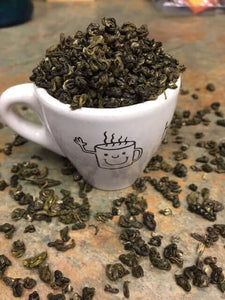 "Dragon Tears" isn't really a kind of tea, but this is a folded full leaf tea from Fujian province in China. It is similar to an oolong in the sense that it is folded and roasted, but it is even more like a Gunpowder tea which is a really popular green tea in America, partly because of the low pricepoint, and partly because of the lack of "grassy" tastes along with smoky undertones.
However, this is a fancier and tastier tea than even the highest grade of Gunpowder. The tea leaves are rolled up into little pellets and pan fried. The leaves unfurl as they steep, and can be successfully steeped up to 3 times before being discarded. There are downy buds in addition to just tea leaves, which gives a soft mouthfeel, sweetness, hints of fruit. This in addition to the mellow, hint of smoky, roasty sweetness of the tea leaves.
All in all it is a fantastic everyday green tea, or a great gateway into the world of green tea for those who don't think they enjoy the taste of green teas.
Tasting Notes: Full bodied, slightly vegetal, hint of smoke, soft mouthfeel, roasty sweetness

Steep: 1.5 tsp of tea for 8oz water. Water temperature: 175. Steep time 3 minutes. Sweetener: Optional
Approximately 14 tsp in a 1 ounce package.