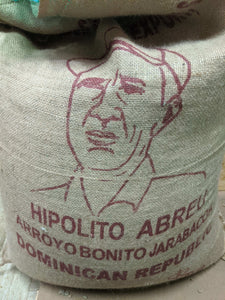 Dominican Republic grows a lot of coffee, but they drink most of it. Only 20% of the crop is exported.

Their coffee does not have high demand in the USA. Even the higher grade lots tend to be fairly inexpensive, with very mild, mellow flavor, little to no acidity, and a clean aftertaste. I used to use it as a base for flavored coffee since it doesn't have any attributes that compete with the flavorings. Dominican Republic coffee became hard to regularly purchase, and now we use Nicaraguan coffee which shares many of those same attributes.
This Dominican Republic caught our attention for a number of reasons. First, its not inexpensive, and arguably is overpriced, although probably worth it to experience a nice Dominican Republic bean. It was grown in the Central Mountains (Cordillera Central) which have the highest altitude of the entire country, and it was grown by one farmer, Hipolito Abreu. The quality is very good!
We roast it about like a Colombia. Not quite into the 2nd cracks (although you could if you wanted). We get a really nice toffee sweetness and just overall "coffee" flavor. Not a complex nor bright coffee, but a really nice clean sweet everyday coffee from a region that you don't see in the states very often. If you roast it lighter, you do get hints of red fruits, but its a little green and raw tasting. If you roast it darker, it holds up nicely but loses its sweetness.
Caturra varietal, 4000 feet above sea level, near the town of La Vega.
US Arrival February 2020

choosing a selection results in a full page refresh