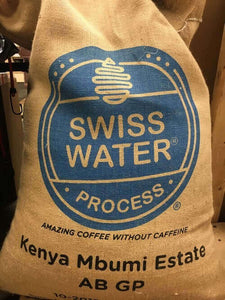 Those of you who have been around awhile, remember back when Kenyan coffee wasn't so expensive, and it used to make a fantastic decaf option. But then Kenya had a shortage and no one wanted to send their precious Kenyan beans to be decaffeinated, and even after supply came back up, decaf Kenya fell off the market.
But we found some!
This went through the Swiss Water Process plant in Canada, which I generally do not prefer, but one advantage to Swiss Water Process decafs is that they aren't as discolored and the cracks are louder than with most decafs. They look more like normal green coffee which means that people who use color and sound to help them know when to end the roast will find these some of the easiest decaf beans to roast up.
You can do a few different things with this bean. You can french roast it (45 seconds of 2nd cracks) and get an awesome sweet dark decaf with chocolate undertones. I would most recommend that you should medium roast it (just barely-- or even not quite into-- 2nd cracks) and enjoy the inherent tastes of sweet citrus fruit and savory herbs (sage, rosemary), with a better-than-average mouthfeel and very pleasant aftertaste. But if we light roast it as if it was a normal Kenya (30 seconds past the end of the first cracks)..it's very interesting. Juicy, unami, herbal -- admittedly just a bit strange for my tastes. Almost a pot roast/broth/tomato juice direction. Not bad, mind you, just weird. So then I blended it -- either with regular coffee to make a half-caf blend, or with decaf to make a decaf blend. I really like it blended with Colombians and Brazilian beans. It's very nice with other fruity African beans. Is not very good with Guatemala, Sumatra, or other Indonesians. For those of you who love coffee and aren't allowed the caffeine, this is an exciting and much needed new addition to our selection.
choosing a selection results in a full page refresh