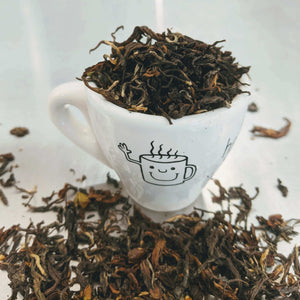 Darjeeling is a growing region in India. The tea grown here is considered the "Champagne" of teas because of the complexity of taste. This Second Flush (2nd Harvest) is our favorite for its classic muscatel notes (reminds me of tomato leaves), its citrus aroma, and sweetness. 
This is the 2020 Arya Estate 2nd flush, Ruby quality, with high quality tippy leaves and full complex taste. It's the best 2020 Darjeeling we've tasted and it does not disappoint in any way. 

When brewed correctly, it has little astringency and no bitterness. Note that a Darjeeling should be steeped at a lower-than-normal 195 degrees.
Tasting Notes: Apricot Floral beginning, Muscatel, Citrus, Brown Sugar aftertaste, Mild Malty tones, Sweet, Brisk

Steep: 1 tsp of tea for 8oz water. Water temperature: 195. Steep time 3 minutes. Sweetener: Optional
Approximately 18 tsp in a 1 ounce package.