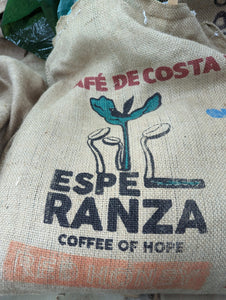 Aquaiares Farm is on the Turrialba Volcano which is still active — it began erupting even more consistently about 10 years ago. So of course this coffee is growing on nutrient rich volcanic soil, has high altitude, shade grown conditions, and is processed and sorted with great detail. 
This is a coffee varietal called Esperanza F1 Hybrid, and it was developed here on this farm. It has a strain of Ethiopian coffee in it. 
The coffee should be treated as a light roast and has a fruity, sweet, and floral taste. We were noting lemongrass, some blackberry, a lot of violet or other light floral taste coming through. 
Honey coffees are easy to scald so when we roast it, we use small batches and low heat and keep the drum  speed high and the airflow high. It's best when roasted slowly; the beans are dense, grown at extremely high altitude, and they require more heat than most honeys. Pull it out about 15 seconds after the 1st cracks. It's a coffee that you can brew as espresso or as coffee. Either way it has subtle fruit and mouth-watering juiciness.

US Arrival August 2023