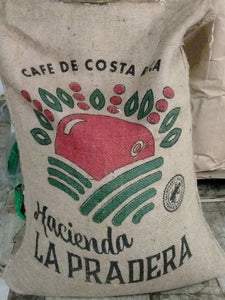 La Pradera is one of the sister farms to La Minita, and they do a lot of experimentation on the farm. Pacamara is a varietal of coffee bush that grows larger beans than normal, but the varietal is hard to grow so you don't see it too often. The varietal tends to taste fruity and is highly desirable.  I'm a big fan of Pacamara beans, and this one disappointed me a little. The beans didn't seem all that large compared to normal, and while it really is an exceptional tasting coffee, it's not amazing. I wanted it to be a Christmas Morning sort of coffee, and it's more of a Saturday Morning sort of coffee.

My favorite roast of this is very light -- remember it is a natural process coffee so you have to be delicate with it. Definitely don't get into 2nd cracks or it will get bitter and lose its sweetness, and I'm not taking it too far out of first cracks. I'm getting jasmine, a nice tart puckery feeling in the corners of my mouth, some caramel sweetness, maybe a bourbon note. Nice aroma. La Minita advertised it as raspberry, melon, candied cherry, very sweet, brown sugar, so maybe you'll have better success than me at making it taste extra special, but I'm not sure how they roasted it to get those tasting notes.

But it really is pleasant in every way. I think I just had too high of expectations.

USA arrival August 2022

choosing a selection results in a full page refresh