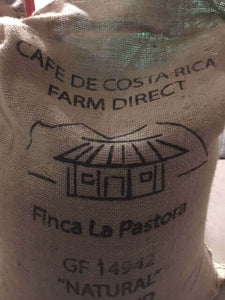 This is from the famous La Pastora estate in the Tarrazu region and is a microlot of their natural process (dry process). This bourbon varietal bean went through the sundried process that Ethiopian coffee goes through, to allow the fructose and fruity flavors of the fruit soak into the coffee.
Even though this is a Central American coffee, you want to roast it as if it is a natural Ethiopian. You want to coax it slowly through first cracks. Give it 30 degrees and 3 minutes from the beginning of first cracks to end of roast. Maybe 20 seconds past the end of the first cracks.
In the coffee, you'll taste fruits of strawberry and sweet cherry. It is the sweetest of the Costa Rica processes, and you can also try it as a single origin espresso at a light roast.

USA Arrival: July 2022
choosing a selection results in a full page refresh