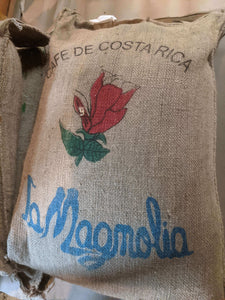 Costa Rica grows perhaps the finest coffees of Central America, and this one makes their reputation even stronger. La Magnolia is grown in the Tres Rios region at 4,000 to 6,000 feet above sea level. The cultivars are Caturra and Catuai, and beans are sorted out as a large size 16 screensize. The aroma has a nice floral smell. The acidity is not overbearing, and the aftertaste is clean and pleasant, making it easy to go back for another refill. The taste of the coffee has sweetness with floral undertones. It's a fairly normal, everyday sort of coffee, but very drinkable, enjoyable. 
We roast it 45 seconds past the 1st cracks, and not into the 2nd cracks: there's a surprising amount of body and smoothness for a coffee of this fairly light roast level.
It's really an ideal morning cup of coffee, bound to set your day off in a good way.
Arrived in US in August 2021
choosing a selection results in a full page refresh