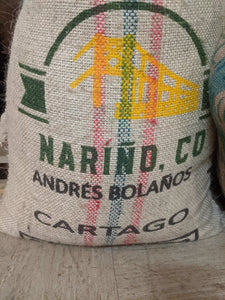 Colombian farmers are really starting to pay attention to quality and discovering that higher quality equals higher prices for their crops.
This excelso Colombia is from the southern part of Narino region, high up in the Andes mountains on a volcano known as El Azufral. It was the harvest of just one farmer, Andres Bolanos, and is much nicer than your average Colombian coffee. There's no bitterness, earthiness, or defects. It has great sweetness, full bodied, soft mouthfeel, hints of fruit behind the rich flavor and classic Colombia taste -- makes for a coffee that you can offer to anyone and have them enjoy it.
We like it at about the same roast level of how we roast our other Colombia coffees. Full City+, a few seconds into 2nd cracks tends to be our sweet spot; but you can get away with taking this one a degree or two lighter if you want more fruity taste. If you want a dark roast Colombia, it can handle that too. 
US arrival January 2021
choosing a selection results in a full page refresh