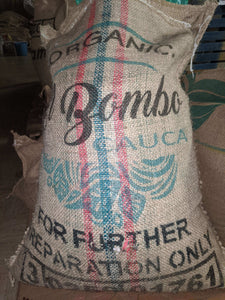 Bag comes in stamped front and back with all its certifications. Organic, Rainforest Alliance, and some lesser known environmental stamps. It's imported by RoyalNY, but I feel like it's one step above brokerage coffee because my sales contact has actually visited the farm personally and met the farmers, and they're the exclusive US importer of this farm.
It's a really nice Colombian, and here's my test. At full city, I'm bracing myself for extreme brightness, but nope, it's not bad. It's entirely drinkable with just a nice gentle acidity and sweetness. Now granted, Full City is not the ideal roast for this bean -- the taste is a little raw still at this level, but the fact that you CAN drink a Colombia at this level means you have a high quality, well-sorted, high-altitude crop.
Full City+, a few seconds into 2nd cracks, I really enjoy the flavor here and this is my sweet spot. There are some mild cherry notes, mild milk chocolate, and mild acidity. Overall sweetness, no bitterness, and clean aftertaste. Now give it another 30 seconds and it's more like "traditional coffee" -- which is often what people who like "Colombia" are looking for -- just a normal tasting rich mug of Colombia. At this level, you do have a nice shot of espresso.
In between those two roast levels, the flavor is muddled and not all that spectacular, and if you take it longer, say 45 seconds into the 2nd cracks, some earthiness shows up, which isn't something I find desirable in a Colombian.
Valle de Cauca is one of the beter Colombian coffees I've found out of many samples, but keep your expectations in check: It's a Colombian. It's not a Panama or Ethiopia or a natural processed coffee. It's a washed process Colombia. It's normal tasting coffee. But FOR a Colombia, it's surprisingly complex, smooth, and good. It's also worth noting that despite Colombia being the 2nd largest producer of arabica coffee in the world, it's hard to find an organic Colombia, which just makes this all the better of a deal.
US Arrival March 2020

choosing a selection results in a full page refresh