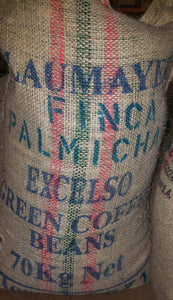 The Quindio growing region is located close to the capitol city of Bogota and is geographically small. Most farmers here don't grow coffee -- it's known for citrus and nuts. We've never had a coffee from here, and this coffee doesn't remind me of a Colombian coffee at all! It's very complex and has fruit notes and complexity that surprised me. We originally bought this planning on branding it as our roasted "Traditional Colombia" but it's simply not "traditional" enough! It has lively acidity, tangy lime and cranberry undertones, vanilla creaminess, and too much complexity to ever be called "traditional." It's a great medium roast coffee.
Full City, not quite into the 2nd cracks, is probably where you want to go. You'll notice tart cranberry with hints of lime. I really enjoy the balance of acidity with body and flavor here, but it's a little bit exhausting to drink because of the tartness. You have to drink it when it's really hot, and in small amounts, but the complexity is awesome. Really nice mug of coffee (and this coming from someone who doesn't get too excited about Colombian coffee). But if I take it just into 2nd cracks (a couple degrees darker and a few more seconds), the tartness goes away, and it's sweeter, and this is much easier to drink large amounts of, but it loses some of the fruit that makes it so interesting. I've been roasting it both ways and then blending them together to get the best of both. 
Take it 30 seconds into the 2nd cracks and you have a solid french roast. You get more of a roast flavor, with just hints of chocolate and very smooth -- not acidic. You can drink it straight or with cream. A step above inexpensive Colombia roasted to this level because the body of it holds up really well. You can also use it as espresso on its own. 
USA Arrival 10/2022
choosing a selection results in a full page refresh