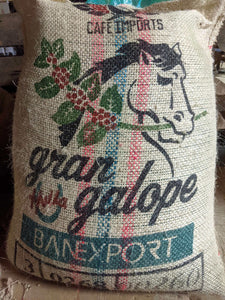 Colombian farmers are really starting to pay attention to quality and discovering that higher quality equals higher prices for their crops. The Gran Galope brand was created to set apart the higher scoring coffees so they didn't get lost into the giant lots. It typically is reserved for coffees scoring an 86.

The Huila region is generally my favorite. It sits in the south center of the country, enjoys altitudes of 4500-5000 feet, and is known for coffees with more of a cocoa and sweet stone-fruit taste than those in the northern regions of Colombia.
This lot comes from a group of farmers with small plots of land. Several purchasing agencies around the area meticulously control each purchase to guarantee traceability, fairness, and quality. The farmers all use manual hand-crank depulping machines to remove the cherry from the beans, and raised beds for drying the coffee which gives the coffee good air circulation. It is unusual for the farmer to be able to oversee how their coffee is handled, sorted, and prepped every step of the way, but their efforts pay off. They also have been rewarded with a Rainforest Alliance Certification, one of the most demanding sustainability seals. The positive impact to the preservation of this regions' biodiversity is substantial and is raising the awareness of the importance of organic and rainforest certifications in the area.
This is a good everyday Colombian. It is not by definition a microlot, and it does not have a particular set of flavor notes to make it stand out -- but with that said, it DOES stand out....we cupped it next to several other lots of Colombians, and this was the best one which is why it's now in our inventory. But we will mostly be medium roasting it and selling it to those who want "normal coffee"
City Roast: get it through the first cracks and maybe another 30 seconds or so. It starts out slightly tart with slight fruit notes, and then sweetens out and finishes with a bittersweet cocoa note.
Full City+, barely, if at all, into 2nd cracks, this is my sweet spot for roasting most Colombians, and this one is no exception. There are some mild cherry and orange notes, big body, caramel, milk chocolate, and pointed acidity. Overall sweetness, no bitterness, and clean aftertaste.
French Roast -- 60 seconds of 2nd cracks -- big bold flavor without ashy tastes or too much bitterness. Nothing special here, but a little cream pulls out the caramel flavor.
US Arrival: January 2020
choosing a selection results in a full page refresh