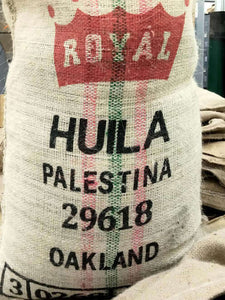 It is always hard to sell an expensive Colombian because people don't expect it to be worth the money, but the farmers are really starting to pay attention to quality and discovering that higher quality equals higher prices for their crops.
The Huila region is generally my favorite. It sits in the south center of the country, enjoys altitudes of 4500-5000 feet, and is known for coffees with more of a cocoa and sweet stone-fruit taste than those in the northern regions of Colombia. This lot comes from a newly founded group called "Aromas del Sur" (translation: Southern Flavors) and they are currently a 73 member group with extreme control of hand picking the best cherries, drying to exactly the right moisture level, processing the beans themselves, and then roasting and cupping them for quality control. They also have started a "coffee university" and been teaching other farmers about quality.
It is unusual for the farmer to be able to oversee how their coffee is handled, sorted, and prepped every step of the way, but their efforts pay off.
Full City+, a few seconds into 2nd cracks, this is my sweet spot for roasting most Colombians, and this one is no exception. Here you have a coffee that is not complex, but it is perfect. No bitterness, brown sugar sweetness, coffee flavored, clean aftertaste. I really like this coffee. It's a beautiful coffee for when you just want a really good mug of coffee that only tastes like coffee.

French Roast -- 60 seconds of 2nd cracks -- big bold flavor without ashy tastes or too much bitterness. Nothing special here, but a little cream pulls out the caramel flavor and it retains its sweetness.
US Arrival: Dec 2022

choosing a selection results in a full page refresh