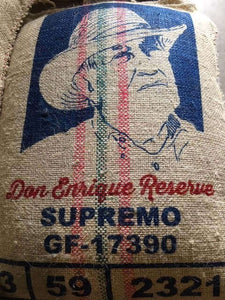 Only organic coffees from high altitude farms (1600-2200 meters) are considered. Only the best tasting lots of Bourbon and Caturra grown on Don Enrique's farms, and processed with La Minita's oversight. Only the large 17/18 screensize Supremo beans are sorted out and sold as this brand — a cup with complex flavors of raisin, chocolate, cherry, and walnut. A creamy silky body, engaging mild acidity, and clean sweet aftertaste.
It's a washed process Colombia. It's normal tasting coffee. But FOR a Colombia, it's above average — no defects, no earthy-dirtyness in the taste, pleasant acidity, no bitterness, good brown sugar sweetness, nice flavor with a hint of tart black cherry undetones and a buttery mouthfeel.
Normally this bean is great when you end the roast right before the 2nd cracks begin and drink it straight, or blend it with Guatemala and Sumatra to make a perfect breakfast blend. If you take it a little bit darker, it is ideal for espresso, but if you're drinking it and think it tastes a little dark and bitter, try roasting it a few degrees lighter next time. If you taste it and note vegetable tastes or a green taste, you need a few degrees darker next time. Of course, if you WANT dark bitterness, you can absolutely take this bean dark and enjoy it as a french roast.
US arrival: October 2022