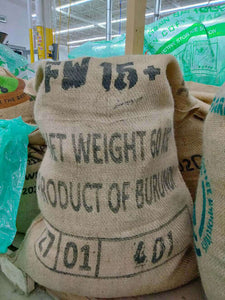 The Ngozi region is right next to Kayanza and has some of the best coffee in Burundi.  It is surrounded by the Ruvubu National Forest, has freshwater lakes, and is close enough to the capital city to have access to infrastructure and technological advances. 
This is a macrolot and a little less expensive than the microlots we usually purchase, but it's a really solid quality. It is washed process coffee, processed at the Budeca mill which is the largest mill in the country. It's located in the capital city of Gitega and 10% of the city's population work at the coffee mill (3,000 employees). The unemployment rate is around 50%, so this coffee mill is huge to the local economy.
Light roast, just out of the first cracks: Immense aroma, bright acidity, complex undertones, a bit vegetal and astringent, a little bit hard to drink.
Medium roast: 10 seconds into 2nd cracks, but not rolling 2nd cracks: smooth, sweet, caramel, herbal, hints of butterscotch.

Dark roast: 40 seconds into rolling 2nd cracks, deep french roast: Surprisingly thick body, surprisingly sweet, aromatic, with undertones of blackened berries, mineral notes (zinc?), and an aftertaste like a great red wine that just lingers in a way that makes your mouth happy. This is how we are roasting it. 
Burundi coffee has been off the map for the past 20 years because of the civil war and unrest, but Burundi is back. Coffee is their number 1 export and main source of income, whether its growing it, harvesting it, processing it, transporting it, exporting it. Their coffee does indeed deserve its reputation as being among the finest in the world.
US Arrival: January 2023