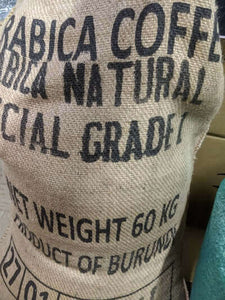 The region around the Kayanza mill is suited to grow some of the best coffee in Burundi.  It is surrounded by the Ruvubu National Forest, has freshwater lakes, and is close enough to the capitol city to have access to infrastructure and technological advances. 
This is a natural process coffee, processed at the Kirundo mill. It was sorted out as a microlot and there were only five bags in this lot, so it's pretty special.
Definitely not a dark roast bean, it's delicate and needs to be treated as a light roast. We take it about 2 degrees darker than a natural processed Ethiopian. Not too long of a roast, don't let it linger too long anywhere on your roasting curve. Give it plenty of air flow. 
I'm really impressed with the aroma and flavor and quality. It is immediately recognizable as a natural process African coffee. You get notes of peach and plum, with some tangerine, some caramel. It's really sweet, clean finish, pleasant acidity. 
Natural sundried Burundi coffees weren't even legal to export out of the country until a couple of years ago, so it's fun to make a mug of this and pretend you have a really special illegal product. It's not illgal...anymore...but it's still really rare and special.
January 2020 arrival in USA.
choosing a selection results in a full page refresh