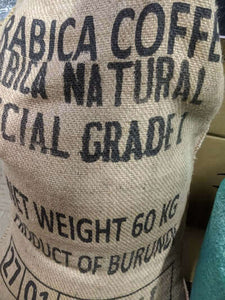 The region around the Kayanza mill is suited to grow some of the best coffee in Burundi.  It is surrounded by the Ruvubu National Forest, has freshwater lakes, and is close enough to the capital city to have access to infrastructure and technological advances. 
This is a natural process coffee, processed at the Kibingo mill. It was sorted out as a microlot and consists of only Red Bourbon varietal beans.  
Definitely not a dark roast bean, it's delicate and needs to be treated as a light roast. We take it about 2 degrees darker than an Ethiopian. Not too long of a roast, don't let it linger too long anywhere on your roasting curve. Give it plenty of air flow. 
We find the slightest bit of earthy/fermented notes when we french press it (not a bad taste, but just a little murkiness), but when making it as a pourover or drip pot it's crisp and clean. The coffee smells fantastic, very aromatic and fruity, and it has a punch of flavor. Chocolate covered cherries, some plum, some winey notes. 
Natural sundried Burundi coffees weren't even legal to export out of the country until a couple of years ago, so it's fun to crack open a bag of this. It's not perfect coffee, but it's really solid, I'm happily drinking it and selling it. It's a fun change of pace from natural Costa Rica and natural Ethiopia coffees that I'm usually craving.
February 2023 arrival in USA.
choosing a selection results in a full page refresh