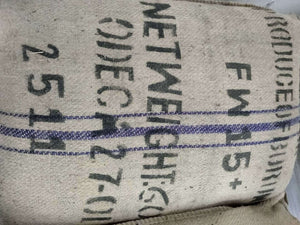 Karuzi is located in central Burundi and historically lesser known for its coffee compared to neighboring Ngozi and Kayanza provinces. The Ubuto Group was formed as a women-run coffee co-op to bring Karuzi coffee to the world market.

This is a washed process coffee. It was sorted out as a microlot and consists of only bourbon varietal beans. The trees are very young and this is some of the very first harvests from the new plants.

We like it as a medium roast, just a few seconds into 2nd cracks. We are getting a lot of floral notes (rose) and a lot of bright acidity. Maybe some fig, milk chocolate, and graham crackers in the aftertaste. Not a lot of sweetness, but certainly complex and high quality.

You can also roast it dark, as much as 40 seconds into rolling 2nd cracks. Here it still isn't bitter and has a toned down acidity with some dried fruit (raisin/fig) notes, a little milk chocolate, and rich mineral notes. 

Burundi coffee has been off the map for the past 20 years because of the civil war and unrest, but Burundi is back. Coffee has become their main source of income, and their coffee does indeed deserve its reputation as being among the finest in the world.
US Arrival: January 2023

choosing a selection results in a full page refresh