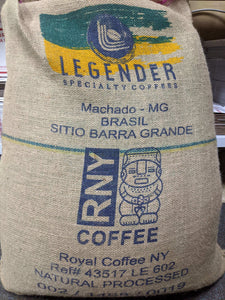 This natural processed microlot from Brazil makes a fantastic shot of espresso.  We roast it 15-20 seconds into the 2nd cracks (not as dark as our normal Brazil espresso roast) and end up with a shot of espresso that is chocolatly and creamy with tons of crema.  When made as espresso, it has a rich, thick mouthfeel with caramel, chocolate covered peanuts, and a hint of fruit.   Sweetness, but no bitterness.  You could drink 10 of these if you weren't careful. 
As coffee, we roasted it to the verge of second cracks and it was a very drinkable Brazilian coffee. It had a medium body, nutty undertones, chocolate notes, and low acidity. I don't personally care for Brazil coffee, but blended with some Colombia or Guatemala, it would be pretty nice. If you're looking for an affordable single estate bean for coffee or espresso, this is an inexpensive option to consider.

This Brazil came from one particular farm (Barra Grande) in a community referred to as Alto Barreiro. They grow two varietals; Yellow Catuai and Mundo Novo. They blended the two together this year because it tasted nicer than each coffee individually. It is very uncommon to be able to get that much information and traceability from a coffee coming from Brazil. It is a fully natural processed coffee. They dry it under the sun on long patios. This is a mircolot so there wasn't much of it to begin with and it's extremely fresh right now. We got lucky and grabbed it so that our customers can enjoy this wonderful Brazil.
US Arrival: January 2020
choosing a selection results in a full page refresh