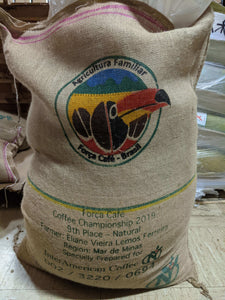 This Brazil comes from a single estate in the Mar de Minas region, which is close to Mogiana in the state of Sao Paulo. It has a softer, less harsh presence in coffee blends, offering some notes of cherry and milk chocolate and caramel to your espresso or coffee blends, along with a full body. I prefer it as drip coffee, but you can also drink it as espresso, where it comes out with chocolate and peanut notes. Either way it does have some earthy notes, but that's pretty common with Brazil. Either you like Brazilian coffees or you don't. 
It won 9th place in the Brazil Cup of Excellence which puts it at a bit of a premium over your average Brazil! The farmer is Elaine Vieira Lemos Ferreira. 
This is a natural-processed coffee which gives it more complexity, but you don't roast it like a natural process -- you still crank it up and take it medium to dark. The importer who bought it at auction noted hazelnut, cherry, and dark chocolate in their notes.
But I take it 15 seconds into the 2nd cracks, and use it in my espresso blend anywhere from 40% to 80%, adding a little African and Indonesian for the remainder. But if you like that distinct taste of a Brazilian coffee, this is one you can drink, either as a single origin or in a blend.
US Arrival January 2020
choosing a selection results in a full page refresh