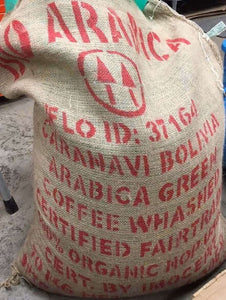 This is a certified fair trade organic Bolivia Co-Op coffee. The small co-op of 18 families calls themselves Bio Arabica and grows coffee in Western Bolivia, over by Peru. This is known as the Yungus region and has a rainy climate on the slopes of the Andes Mountains. The co-op is half men and half women and is a part of the Women's Coffee of Bolivia organization (CFB). They work together to plant new varietals, test new coffees and eventually blend all of their coffees together.
Bolivia coffee has been harder to source as a lot of farmers in the past few years have torn up their coffee bushes and planted cocaine in its place.
Compared to the other South American coffees, Bolivia is most closely comparable to a Peru. My favorite roast is just barely into 2nd cracks. At this medium roast level you taste milk chocolate and salted nuts. It is smooth, mellow, full bodied, and sweet. The sort of coffee that you can mindlessly sip at. If you go 20 seconds into 2nd cracks, it is perfect for espresso. Very nutty and creamy and chocolaty. Darker than that is not recommended as it does start to become bitter and burnt. Lighter than 2nd cracks is also not recommended as it has a tartness which I would describe as tasting under roasted.
The beans are nicely sorted and roast and taste the way you would expect for a Bolivia coffee. If you have enjoyed Bolivian coffee in the past, this one will not disappoint you.
US Arrival February 2021

choosing a selection results in a full page refresh