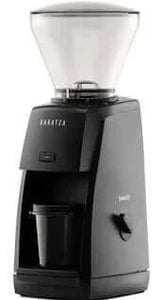 Free shipping and a free bag of coffee bundled with this espresso grinder.  It's a deluxe version built off of the original Encore, and while it can grind coffee for all brewing methods, it is made particularly for grinding espresso and does that the best. If you mostly grind drip coffee, this probably isn't your best choice. 
Baratza (an american company) has been refining and improving this model of grinder for many years, and this is their latest, best ever version. 
If you buy this Encore grinder from us, it ships for free, and I will throw in a free 12 ounce bag of roasted coffee or 2 free pounds of unroasted coffee. When you are on the Cart screen, add a comment about which variety you would like.