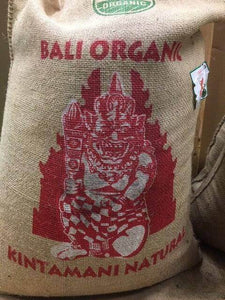 Kintamani is complex and fascinating, particularly because you rarely find a natural-processed Indonesian coffee bean. Its flavor includes that of tropical fruits, strawberry, watermelon, flowers, and cocoa notes. The smooth taste (low acidity) and thick body stand it apart from what could otherwise be mistaken as an African coffee. You would expect earthiness in Bali natural processed Indonesian, but this one is surprisingly clean, with little to none of that earthy or fermented taste.
This is not a difficult bean to roast as long as you have a head's up on a couple of things. The first cracks are quieter than most coffee cracking. Hence, it is easy to accidentally underroast this. The lighter roasts are interesting, but is you accidentally pull the coffee out while it's still in the first cracks, all you're going to taste is grass. Let it get out of the first cracks, and you get herbal anise, savory pinenut, full body, floral, tropical fruit, banana, slight cherry, strawberry, and overall good sweetness. Keep roasting...you lose some of the character, but you get more chocolate which is arguably even more enjoyable. 2nd cracks are late too.  Let it get just to the second cracks and it will taste like a dark roast and be a bit bitter, but if you take a sip thinking it will be a dark roast with sweetness and slight fruit, it will meet your expectations.
It's fun to see what you get processing an Indonesian coffee as if it were African. The hybrid of the two is both educational and inspiring. 
US Arrival October 2022
choosing a selection results in a full page refresh