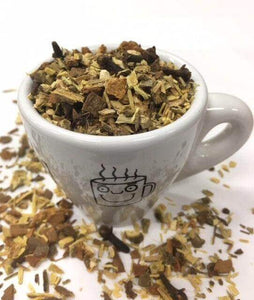 This blend of licorice root, cinnamon, cloves, and orange peel is incredibly simple, but also addictively sweet, and enormously comforting. The soothing/spicy/sweet balance of this blend makes it one of my all time favorites, and many, many, many people who have told me they don't like licorice, take a sip of this and can't believe how good it tastes. Don't let the "licorice" part scare you away. This tea is phenomenal. You definitely don't need to add your own sugar, and a mug of this tea only has 5 calories.
Ingredients: Organic Licorice Root, Organic Cinnamon, Organic Orange Peel, Organic Cloves
Tasting Notes: Leaves a sweet coating in your mouth and throat that instantly comforts and warms.

Steep: Hot: 1TBSP of tea for 12oz water. Water temperature 205. Steep for 3 minutes.

Approximately 5 Tbsp in a 1 ounce package.