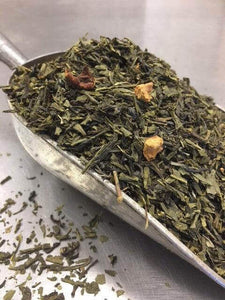 The perfect summer iced green tea. Sweet dried apples with the floral jasmine take you away to a quiet orchard where you can sit in the sun under a shade tree and read a book.
While it makes a decent mug of hot tea, it is particularly well suited for drinking it iced.
Ingredients: Organic Chinese Green Tea, Organic India Green Tea, Organic Jasmine, Organic Apple, Natural Flavor
Tasting Notes: Tropical Fruit, Sweet, Full Bodied, Very Flavorful

Steep: 1 Tbsp of tea for every 12oz water. Water temperature: 175. Add 1 Tbsp of sugar for every 12 ounce of water. Steep time 3 minutes. Refrigerate. Pour over ice and enjoy.

Approximately 7 Tbsp in a 1 ounce package.