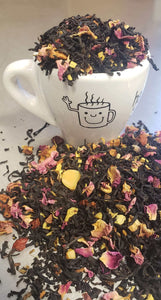 This gentle black tea smells and tastes just like a Christmas Cookie.
This is our take on Pistachio Shortbread tea from TeaSource which won as their customer's overall favorite tea last year but then was discontinued. It's such an awesome tea that we had to pick up the baton and keep it going. 
The black tea base is gentle, but the flavoring is done well and is potent enough to be quite enjoyable. A little bit of sweetener is recommended to make it really come together, but it's good either way.
Ingredients: Indian Black Tea, Apple Pieces , Licorice Root, Cocoa Nibs, Cinnamon, Dried Beets, Hibiscus, Rose Petals, Pistachio Flavoring, Almond Flavoring, Natural Creme Brulee Flavoring
Tasting Notes: Great cookie aroma, Almond, Rich, Creamy mouthfeel, Sweet

Hot: 2 tsp of tea for 8oz water. Water temperature 205. Steep for 3-4 minutes. Sweetener optional.
Approximately 18 tsp in a 1 ounce package.