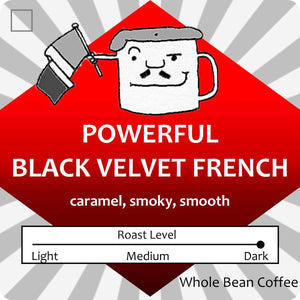 A Frenchman once said that American coffee tastes like dishwater. Maybe so, but not this bag of joe. Rich oily dark powerful beans that you can smell from across the room.
Oui, oui. Bon cafe, monsieur.
A proprietary blend of certified organic South American, Indonesian, and African beans.
Add cream to create a sweet, strong coffee as smooth as velvet.
Tasting Notes: Sweet, Caramel, Smoky, Charcoal, Smooth