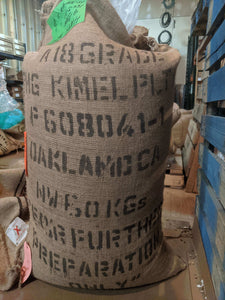 This estate always delivers a great Papua New Guinea -- creamy, smooth, buttery. Mild milk chocolate and vanilla butter icing notes. In the lightest roasts we are tasting bright tropical fruit and some sparkling acidity if you use your imagination. I recommend a City Roast on it. I don't let this one get anywhere close to the 2nd cracks. The light roast will show off the most complexity and creaminess. If you want to add some bass notes to it, then BLEND it with a darker roast (I recommend Sumatra or Guatemala). If you want to drink it as espresso, then it is okay to take it a little darker -- 10 to 15 seconds into the 2nd cracks makes a nice shot.
Some Papua New Guineas are fruity (think mango, passionfruit, peach) and some are creamy milk chocolate. This one is of the latter variety. The AA beans are the largest beans grown on the island, and they are sorted multiple times for quality. The truth of the matter is that the vast majority of coffee beans are not AA size. AA amounts to something like 5% of the cream of the crop. The rarity of quality here, alongside with the labor involved to pick these out and separate them, makes this a more special coffee than we give it credit for. When we don't literally see someone doing the work and knowing the process, it's easy to take a product for granted, but in their eyes, this coffee is so valuable and special, that they don't even drink it themselves.
This coffee arrived in the US in November 2021.
choosing a selection results in a full page refresh