Whiskey Rum-Barrel Aged Coffee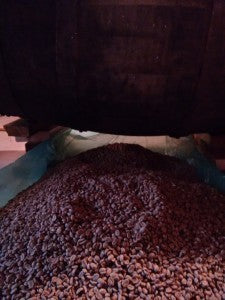 Combining a passion for great coffee and find aged spirits led us to the combination of flavors you don't want to miss.  This mug of coffee drinks like a well-crafted cocktail, without the alcohol content.  A great sipping dessert coffee or social coffee that will instantly impress.
Other roasters have begun experimenting with aging coffee beans in barrels — we didn't invent it — but we did experiment and develop a combination of flavors that are a perfect match.  We started with our Ugandan coffee bean — one of our best selling coffees (the base for Artist's Blend, Bear Blend, Bayfront Blend, and many other House Blend coffees).  Its natural undertones of raisin and fig, rich body, and sweetness made it the right choice for this project.  We found an oak whiskey barrel that was originally built by a well known Tennessee distillery to make their sour-mash 9 year bourbon.  The barrel was then sold to a local Pennsylvania distillery who used it to make a fine aged rum (fact of the day: fine aged rum is generally aged in a used charred whiskey barrel).  We bought this barrel and aged 80 pounds of unroasted Uganda coffee in it, for just the right amount of time, and then pulled coffee out and put it in airtight glass containers.
We are now roasting these beans in small batches, as a light roast, marrying the flavors of fig and raisin and coffee, with rum, oak, and whiskey.  The resulting mug is sweet, smooth, and one of the most complex interesting coffees to ever touch our lips.
We have other barrel projects underway, with other origins of beans matched up with other types of barrels — but these things take months to years to get right; and we are setting the standard high with our first release.
This coffee is sold in 1/4 LB sealed foil bags. For wholesale inquiries, please contact us.