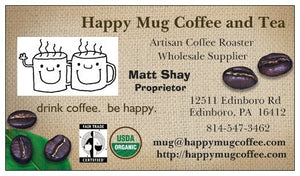 happy mug coffee is now warehousing, roasting, and shipping out of edinboro, pa  10 miles south of erie.
at this time, we ship green coffee all over the united states, and roast for local businesses in erie, meadville, corry, warren, tidioute, tionesta, and oil city, among others.
if you would like a tour of our new facility, let us know!  with our expansion, we now have over 40 coffees and 30 teas in stock, and the motto here is you can't leave until you're shaking!  nah, even if you don't drink coffee, you're welcome to come have a look.  just let us know.  contact information is listed in the photo above.