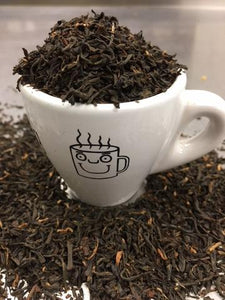 when i looked into selling tea, i wanted nothing boring.  i wanted tea that would rock your world.  make you re-think the whole class of beverage.  make you still think about that mug of tea for days afterwards.
in the end, i drank over 300 different teas.  i bought every tea i could find at health stores, grocery stores, cafe's.  i received samples from several companies.  i read books about origins, experimented with blending, quizzed tea experts.
i now have 25 teas that i want to share with everyone i know.  teas that will knock your socks off.  some of the finest teas found anywhere in the world.
here is one from a province in china.  it is a black tea, aged for 3 years in a cave, similar to a pu-erh tea.  it ages, just like a cheese, whiskey, or wine — the fermentation process gives it complexity and immense flavor.  it also turns it into a cure-all, supposedly improving circulation, fighting cancer, fighting strokes, helping weight loss and blood sugar conditions and digestion.  it even naturally contains small amounts of a chemical called lovastatin, which is sold as a prescription medicine used for lowering cholesterol.
so then they take this amazingly flavorful, amazingly healthful tea, and they blend it with aromatic rose petals and press it into heart shapes.  one heart per pot.  perfection.
this is just 1 of the 25 teas i'd love to share with you.  check the rest of them out here.