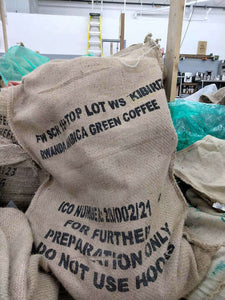 Twenty-five years ago, Rwanda was a coffee leader, and then civil wars and strife all but ended their coffee industry. About 10 years ago, coffee started flowing out again, but quite a bit of it was undesirable. Perhaps you've had some bad experiences with Rwanda coffee that scared you away. Dirty aftertastes, no complexity, high acidity, thin bodies, unpleasant sour undertones, just to name a few common defects…
This one is amazing. Rwanda is back.  It has a nice rose and pear taste, some pleasant sparkling acidity, a sweet clean aftertaste, it really tastes magical. One of our importers went to Rwanda during the harvest and picked this lot out as their favorite from the trip and let us buy it.  It was processed at the Kabirizi mill near Lake Kivu.

The COOPAC group was one of the first coffee co-ops to emerge following the civil war and has won the cup of excellence a few times. It is a fair-trade and organic certified CO-OP, meaning that several small organic certified family farms pooled their crops together and they rely on coffee as a means of living, and the fair trade organization oversaw the transactions to assure fairness.

I keep the middle of the roast (between 300 degrees faranheit to first cracks) to the normal 6 minutes and still get nice acidity. I take the roast to just shy of 2nd cracks, very similar to how I would roast a washed Colombia.  I do not recommend taking it to a French Roast. It loses its African character in the very dark roasts. Too light of roasts have a greenish taste that overpowers some of the more delicate notes.

US Arrival: January 2023