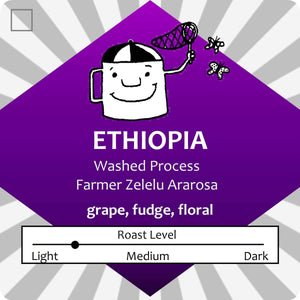 Ethiopian coffee is unique and distinctive and this is an excellent example of an extremely refreshing and surprisingly fruit-forward washed offering that works very well either hot or iced (we particularly enjoyed it as cold brew).    
Zelelu Ararso is one of the farmers within the co-op of 255 farmers in wild, remote Halo Bariti. He sorted his crop to a grade 1 status and kept it separated from the rest of the coffee and sold it at a premium. He's 59 years old and an expert at what he does and his expertise is evident here.  Less subdued than many washed coffees we've experienced from Ethiopia, there is a lot of complexity and fruitiness to be experienced including sweet citrus, floral notes and a full-bodied chocolate finish.
Coffees from Halo Bariti are famous for excellence and this one is not to be missed!
Ethiopia Zelelu Ararosa Washed Process: Creamy, Floral, Citrus, Fudge