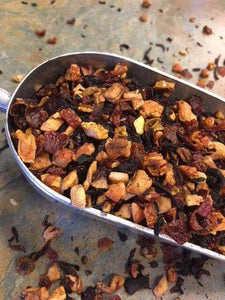 My most popular herbal iced tea -- this is just beautiful fruit pieces that are dehydrated, and when you brew it you get this bright colored, full bodied, super fruity natural tasting tea. It is not as thrilling when you drink it hot, but in a pinch it's not a bad mug of tea that way either.
Ingredients: Rose Hips, Hibiscus, Apple, Orange Peel, Paypaya, Natural Flavor
Tasting Notes: Blood Orange, Tropical Fruit, Very Flavorful

Steep: 1 Tbsp of tea for every 12oz water. Water temperature: 205. Add 1 Tbsp of sugar for every 12 ounce of water. Steep time 5 minutes. Refrigerate. Pour over ice and enjoy.

Approximately 7 Tbsp in a 1 ounce package.