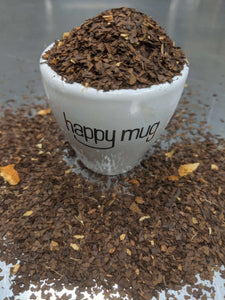 Yerba Mate (er-ba, mah-tay) is the leaf of an herb grown in South America. It contains mateine which is a compound similar to caffeine and will provide your body with alertness and energy, although mateine often does not have the negative side effects that are felt by those who are sensitive to caffeine. Many insist that mateine does not effect the ability to fall asleep.
Mate is good for several steepings. There are many methods and traditions for preparing mate, but the main consideration is that very hot water can cause more bitterness. A water temperature of 180 will produce strong flavor without the bitter components.
The flavor is warming and comforting. We've paired the mate with ginger and lemon for a comforting pick-me-up. It can be drank iced as well.
Ingredients: Roasted Yerba Mate, Cinnamon, Ginger Root, Orange Peel, Natural Flavoring

Tasting Notes: Chai Tea

Steep: 1 Tbsp of tea for every 12oz water. Water temperature: 180. Sweetener optional. Steep time: Start with 2 minutes, but each time you resteep the leaves give it a little more time.
Approximately 20 tsp in a 1 ounce package.