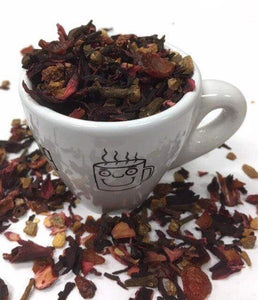 Very excited about this fall blend. As an iced tea, kids love it, and it's perfect on warm autumn days. As a hot tea, the apple-cinnamon aroma and taste are perfect for cool autumn nights. And if you steep it in hot apple juice, it turns the apple juice into a glorious hot apple cider that you just can't get enough of. The tea is made up entirely of whole pieces of dehydrated fruit and spices. It is a seasonal tea that I hope to stock until right around the holidays.
All ingredients in this blend are Organic Certified.
Ingredients: Apple, Hibiscus, Rosehips, Mango, Cinnamon, Clove, Ginger, Natural Flavor
Tasting Notes: Apple Cider Mulling Spices, Tart and Fruity.
Steep: 1/3 Cup of Tea in 4 Cups of water (or Apple Juice). Heat to 205. Add 1/3 Cup Sugar.
or 2 Tbsp Tea and 2 Tbsp Sugar in 16 ounces of hot water. Drink hot, or pour over ice for iced tea.

Approximately 6 TBSP in a 1 ounce package.