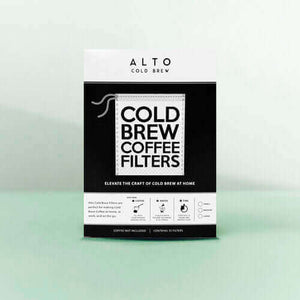 This Alto Brand 30-pack of "Small" is for making up to a quart of cold brew. Disposable biodegradable drawstring bags. The material acts like cotton -- it doesn't rip, is very sturdy, allows the water to pass through but not let the grinds through. The bags are 12 inches by 6 inches and hold a half pound of coffee grounds.
You can now make cold brew with NO mess, NO hassle, and in about 15 seconds you've filled your bag with coffee, and dropped it in your pitcher or mason jar.
Our favorite recipe is to use a quart mason jar, add 1 Cup of Bear Blend ground between medium and coarse, and top it off with cold filtered water. Put the lid on it and put it in the refrigerator for 40 hours. Take out the bag of coffee and put it in your compost.
You get 30 filters in each package! You could reuse them but it's probably not worth the time of washing them out. Also you can use them to make large batches of iced tea, or to steep spices, or to make a soup, or tofu, or anything you would use cheesecloth for.