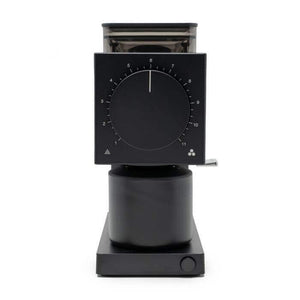 This quiet, sleek black grinder comes with free shipping and a free bag of coffee.
Despite the high pricepoint, this is just a home grinder, but it is flawlessly designed. At 60 decibels (about the level of an air conditioner running), you can make coffee without waking up the household. Grind coffee with low mess and excellent grind consistency which produces a better tasting, less murky mug of coffee. And at just 4.5 inches across and 9 inches high, it has a small footprint on your counter. It has an extremely consistent particle size on each of the 31 grind settings and offers everything from french-press coarse grind to a fine aeropress grind.
It has an auto sensor that grinds ALL of the coffee beans that you put into it, and that way you don't have any crossover beans from one pot to the next.
The dial is large, making it easy to see and easy to change grinds, and comes with a chart showing which grind is ideal for your brewing equipment.

Comes with a 1 year warranty, and spare parts are available if anything breaks down the road.

This is the grinder everyone is talking about right now, and for good reason. It is a joy to use!
If you buy this Ode grinder from us, it ships to you for free, and I will throw in a free 12 ounce bag of roasted coffee. When you are on the Cart screen, add a comment about which variety you would like or we will pick for you.