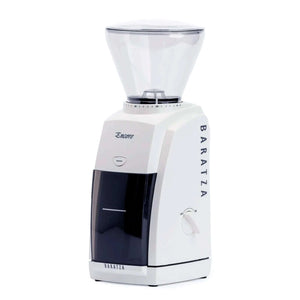 Free shipping and a free bag of coffee bundled with this burr grinder that's best in its class. This is a classy looking black grinder that sits proudly on your counter -- creates very little mess (has an anti-static carafe with a plastic grip to eliminate static electricity), offers everything from french-press coarse grind to espresso grind (although this is not, by definition, an espresso grinder. it does not have several fine tuned settings in which to dial in your espresso shot. however, if you are on a budget, this grinder does grind coffee fine enough to use in espresso machines with good results for the price point). This grinder is built to last. Comes with a 1 year warranty, but I've been using mine at home for almost 10 years and it's still running like new. It's really the only electric burr grinder under $200 that I am comfortable standing behind. I broke a lot of cheap grinders before I found this one. This machine has components that are built better than I've found in grinders that cost twice its price, and every single part of it is repairable!
Baratza (an american company) has been refining and improving this model of grinder for many years, and this is their latest, best ever version. Baratza has a whole line of grinders, and even though this is the only model we stock in our inventory.
If you buy this Encore grinder from us, it ships for free, and I will throw in a free 12 ounce bag of roasted coffee or 2 free pounds of unroasted coffee. When you are on the Cart screen, add a comment about which variety you would like.